Xiaomi's Redmi Note 13 Series: Anticipation and Benchmark Breakdown
Xiaomi has stirred up excitement with its upcoming Redmi Note 13 series, which includes three distinctive models: the Redmi Note 13, Redmi Note 13 Pro, and Redmi Note 13 Pro+. Amidst these, the Redmi Note 13 Pro has taken center stage recently, making its debut on the Geekbench benchmark. Xiaomi has also officially confirmed that this smartphone will be powered by the newly unveiled Snapdragon 7s Gen 2 SoC by Qualcomm.
Benchmark Breakdown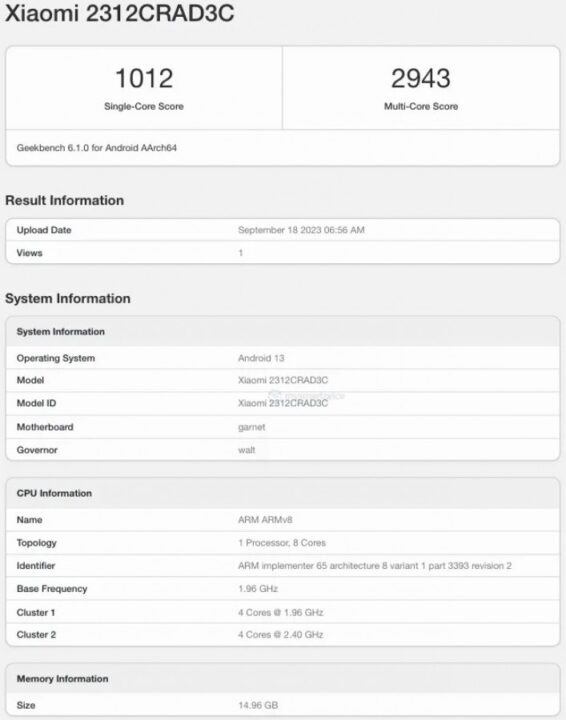 Diving into the benchmark results for the device with the codename Xiaomi 2312CRAD3C, it becomes apparent that this phone boasts an Octa-Core configuration, housing 4 cores running at an impressive 2.4GHz and an additional 4 cores ticking at 1.96 GHz. What's more, it packs a hefty 16GB of RAM. In terms of performance, the single-core score stands at an impressive 1012, while the multi-core performance reaches a commendable 2943.
These benchmark scores are indeed a significant feat for a mid-range System on a Chip (SoC), even outshining the Snapdragon 778G, which typically registers single-core scores hovering around 1000 and multi-core scores reaching approximately 2800. However, when compared to the Snapdragon 7+ Gen 2, it slightly lags behind, particularly in terms of multi-core performance. As demonstrated in the POCO F5 review, the Snapdragon 7+ Gen 2 manages to achieve multi-core performance in the 4000 range.
A Parallel Revelation
Simultaneously, Xiaomi has disclosed that the Redmi Note 13 Pro+ will be driven by the Dimensity 7200 Ultra SoC. There's a strong likelihood that this SoC will deliver a slightly enhanced performance profile compared to the Snapdragon 7s Gen 2.
The impending release of the Redmi Note 13 series has ignited curiosity, leaving enthusiasts eagerly counting down the days until the official unveiling. Xiaomi's ability to surprise the tech world remains a topic of keen interest.