itel S23+: Introducing the "Dynamic Bar" Feature
itel has recently unveiled its latest smartphone, the itel S23+, which builds upon the foundation of the previously launched itel S23 in June. What sets the S23+ apart is its intriguing "Dynamic Bar" feature, reminiscent of Apple iPhone's Dynamic Island.
A Feature Inspired by iPhone's Dynamic Island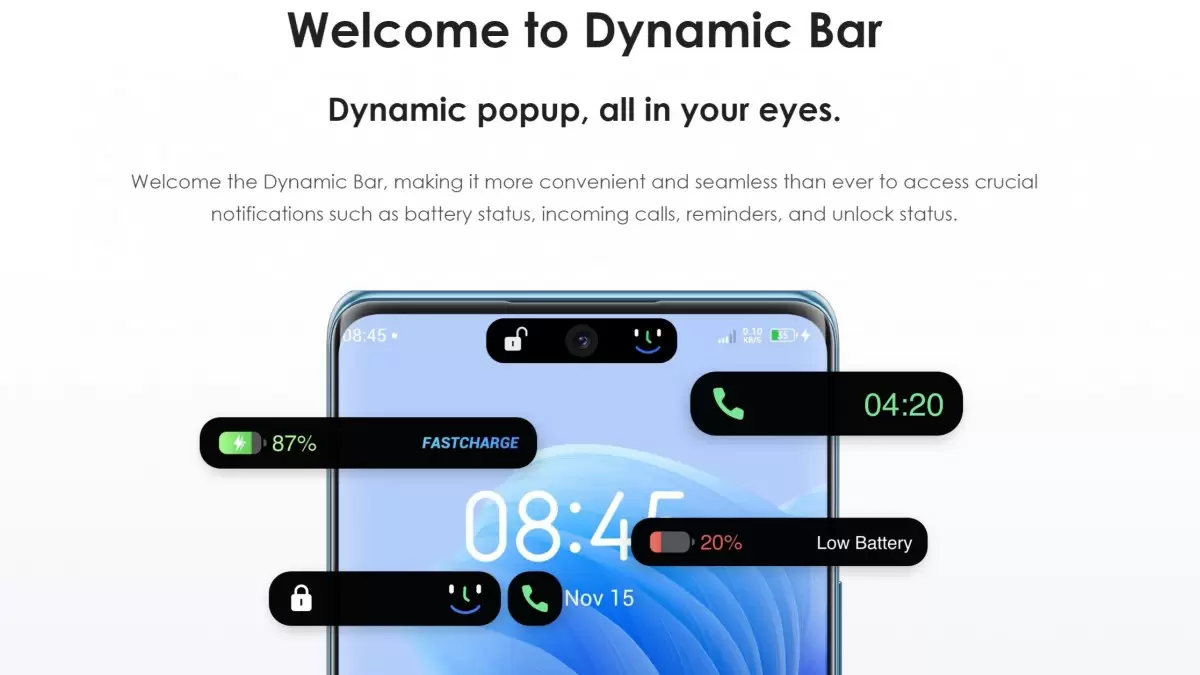 The itel S23+ introduces the "Dynamic Bar," a feature that shares functional similarities with the iPhone. This innovative addition enables users to access specific notifications tailored to supported applications, including incoming calls, messages, reminders, and battery status. It's worth noting that this feature doesn't come pre-installed; users will need to perform a software update to activate and utilize it.
Key Specifications and Impressive Display
At the core of the itel S23+ are some noteworthy specifications. It sports a 6.78-inch Full HD+ AMOLED display that boasts a wide 99% DCI-P3 color gamut and can achieve a striking peak brightness of up to 500 nits. Furthermore, the display is shielded by Corning Gorilla Glass 5 for added durability and protection.
Powerful Performance
Under the hood, the itel S23+ is powered by the Unisoc T616 chipset, accompanied by a substantial 8 GB of LPDDR4X RAM. Additionally, it offers an extra 8 GB of virtual RAM, boosting overall performance. Storage-wise, it provides a capacious 256 GB of UFS 2.0 storage. Notably, the device leverages Atom Storage Technology to autonomously manage data, ensuring sustained performance over time.
Photography Excellence and Battery
Photography enthusiasts will find the itel S23+ appealing, thanks to its primary 50 MP camera sensor, complemented by an auxiliary unit featuring advanced features such as Eye Tracking and Portrait Life, alongside an LED Flash. On the front, a 32 MP sensor resides within a discreet punch-hole design.
Other notable features of the itel S23+ include a robust 5000mAh battery with 18W fast charging support, ensuring extended usage without frequent recharging. Furthermore, NFC functionality enhances its versatility, making it a well-rounded smartphone catering to a diverse range of user preferences and needs.