Global Smartphone Sales Plummet in the Second Half of 2023
In the latest insights from TrendForce, the global smartphone market has reached a concerning milestone, experiencing the lowest sales figures in a decade during the second half of 2023. This decline encompasses both individual quarterly results and the combined sales for the first half of the year.
A Detailed Look at the Sales Decline
A closer examination of the numbers revealed in TrendForce's report highlights a steep drop in global smartphone sales during Q1 2023, with a significant 20% decline. While Q2 offered a slight respite, showing a 6.6% reduction, the total smartphone production for this period reached 272 million units. The cumulative sales for the second half of the year amounted to 522 million units, reflecting a substantial 13.3% decrease compared to the first half of 2022.
Key Factors Behind the Sales Slump
TrendForce identifies three critical factors contributing to this global smartphone sales downturn. Firstly, efforts to stimulate smartphone demand in the Chinese market have faltered. Additionally, demographic shifts in developing markets have yet to generate substantial smartphone demand. Finally, ongoing economic challenges have restrained consumer spending, leading to a more significant production decline in the first half of the year than initially anticipated.
Leaders in the Market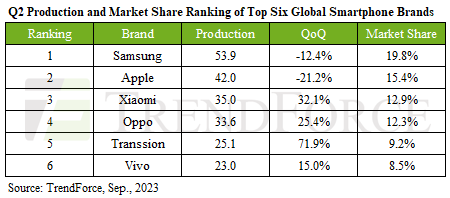 In terms of market leadership, Samsung continues to hold the top position in the global smartphone market. The company produced 53.9 million units, securing a market share just below 20%. Meanwhile, Apple maintains the second spot with 42 million units produced, representing a 15.4% market share. Notably, Xiaomi experienced a substantial production increase of 32.1% compared to the Q1 period, allowing the brand to surpass Oppo, which occupies the fourth position with a production of 33.6 million units.